The Audit 500 is a Multi-Echo Wall Thickness & Corrosion gauge, with B-Scan, Material Analyzer & Datalogger.
Advantages of the Audit 500 include:
DataCentre Software - a universals program for data downloads, preparing custom reports
Adjustable gain and trigger
Material condition analyser
Real time B-Scan graphics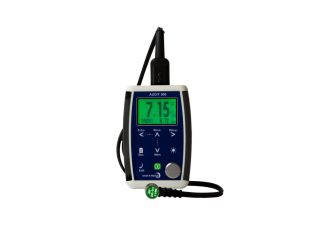 Overview
The Audit 500 gauge has a material condition analyser and B-Scan functionality to generate real time graphic representations at speeds of up to 20Hz, ideal for the inspection of structures that may have defects such as corrosion or pitting which can occur across a variety of environments such as offshore structures, pipes, tanks, valves, pressure vessels, boilers, ship hulls, or any other material that is subject to corrosion and wear; even with coatings such as paint. This gauge can also be used to measure the thickness of plastics.
---
Download our brochure:
Audit 500 (827.1KB)
Features
Measure thru-paint, no need for preparation
Selectable scan speed (4,8,20Hz)
Measurement Range (std): 0.6mm - 500mm Pulse-Echo
"Thru-Paint" range: 2.5mm - 25mm Echo-to-Echo (coatings up to 2mm)
Memory for 32,000+ values
High impact ABS enclosure with rubber sides
Touch-sense front panel
Transfer data to PC via USB
5 year warranty
Standard Kit
Audit 500
Dual Crystal Transducer
2 AA alkaline batteries
Operator Manual
Carry Case
Ultrasonic Couplant Gel (125ml)
Options
Transducer options:
2 MHz (High Attenuation)
5 MHz (Standard & Hi-Damp)
7 MHz (Thin materials or small parts)
Specification
Measurement
Measuring Range (Normal)
0.6 to 500mm Pulse-Echo
Measuring Range (Thru Paint)
2.5 to 25mm Echo-to-echo with coatings up to 2mm
Resolution
0.01mm
Velocity
100 to 19999 m/s
Units
Metric, inch and μ seconds
Calibration
Mode
1 point, AUTO or 2 points
Data Logger
Capacity
32,000+ readings
Organisation
Up to 8 files with names
Internal Clock
Record date and time
Capture Mode
Manual, single, automatic
PC Connection
Connection
USB or RS232 (optional cable)
Updates/Upgrades
Unit based software
Front Panel
Type
Touch-Sense, adjustable sensitivity
Transducers
Dual Crystal
Transmitter/Receiver
Connector
Type LEMO 00
Frequency Range
2 to 10 MHz
User Interface
Languages
English, Spanish & Portuguese
Navigation
Menus & Icons
Electronic Unit
Dimensions
78 x 117 x 24mm
Weight
180g (with batteries)
Working Temperature
-10°C to +50°C
Enclosure
High impact ABS with rubber sides
Power Supply
Batteries
2 x AA 1.5v, indicator permanent.
Battery Life
100 hours (backlight off)
Shutdown
Manual, Auto
Display
Digit Size
12mm & 17mm tall (easy-view)
Backlight
LED (ON , OFF, AUTO)
Contrast
Digital and adjustable
LCD
Graphic LCD 128 x 64px
Frequencies
2Mhz diam 1⁄2"
High Attenuation
5Mhz diam 10mm
Standard & Hi-damp (1 -250mm) (2.5 -25mm in echo-echo)
7Mhz diam 5mm
Thin Materials or small parts (down to 0.6mm)