CETA wall crawler is one of the latest generation of storage tank wall crawlers supplied by Tecnitest Ingenieros S.L., an advanced NDT Engineering company with over 30 years experience in developing turnkey systems and instrumentation for NDT.
Advantages of CETA Wall Crawlers include:
Complete Scan 'A' scans are automatically stored in a database for recording and re-call
Software performs automatic data capture and positioning
(Related Products: Truflux, MPI Yokes)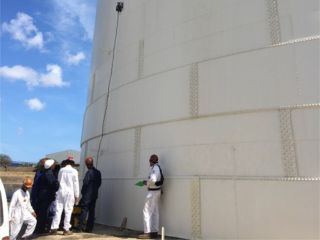 Overview
The CETA Crawler has the ability to move over riveted plates and structural welds, that can be encountered in various sites around the world, using Ultrasonic inspection techniques to map the thickness profile of a tank wall, from the outside. Considered application design and build features mean that the CETA Crawler can be manoeuvred around obstacles easily, using the controller. The CETA series has been developed to meet the requirements of API 653. The data acquisition system allows high speed movement measuring thicknesses every 1mm with accurate control of position and measurement accuracy better than 0.1mm.
All A-scans are stored for future analysis and a B Scan presentation can be provided from the A scan data. Alongside signal filtering and data processing the dedicated software system allows for the elimination of false or deviant measurements, outside of user defined thresholds, calculates average values within a user defined range and, according to API-653 specification for the inspection of oil storage tanks, the calculation of actual minimum acceptable thickness and maximum allowable tank capacity.
The embodied wheel probe is virtually dry contact, with an on-board water reservoir to dampen the wheel as it moves over the inspection area.
---
Download our brochure:
CETA-L (194KB)
Features
Reliable automated inspection of storage tank walls for corrosion degradation
Designed to inspect over the most challenging vertical surfaces of over aboveground storage tanks eg heavily riveted
Outstanding manoeuvrability at speeds of up to 200 mm/s
Independent drives on each main wheel
Thickness readings every 1 mm throughout the inspection (accuracy ±0.1 mm)
Operates with a single crystal wheel probe transducer having a frequency of 5 MHz or 10 MHz
Standard Kit
CETA-L or CETA-S UT Wall Crawler
25m Standard cable
Options
A Multi-element Transducer is also available with up to 6 probes in a larger wheel
Longer length cables viable on request
Specification
Technique
UT pulse-echo
Probe
Single probe or multi-element
Frequency
5 MHz ́s – 10 MHz ́s
Maximum height
25 meter is a standard. Longer cables can be supplied
Power supply
24 VDC 12A (internal and external Battery)
Software
Based on Windows 10 64 bits