Baugh and Weedon have been designing and manufacturing the TruFlux MFL for a number of years, with customers around the globe in the UAE, Singapore, Phillipines, Taiwan, Area, Israel, India, Greece, Brazil and Mexico amongst others.
Advantages of the Truflux MFL system include:
High resolution increasing POD
Lightweight, 55kg (inc. battery)
Easy to transport, total shipping weight under 80kg.
USB connectivity means the Truflux effectively works as a simple "plug and play" unit
Off-the-shelf battery technology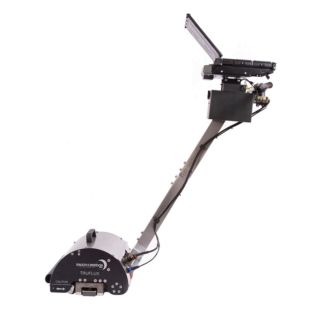 Overview
The TruFlux is an industrial high resolution digital tank floor plate scanner, using Magnetic Flux Leakage (MFL), for tank floor plate inspection; featuring innovative operator focussed design features. The TruFlux incorporates a unique damping system designed to alleviate the high forces required to break magnetic contact with the inspection surface, giving the operator great control over lift-off and placement. The TruFlux detects corrosion on both top and bottom surfaces, meeting API653. Inspection though coatings is standard, up to 6mm and can inspect thicker plates up to 20 mm (3/4 in) thick.
Developments in the TruFlux software deliver a user-friendly operating system, with an improved data acquistion software (DAQ), enabling quick intuitive set up and a faster plate scan time. It is well documented that for this type of Magnetic Flux Leakage technique, speed variations whilst scanning cause adverse effects on data quality. TruFlux employs a proprietary Speed Compensation Algorithm to help remove resulting spurious indications. With USB connectivity, Scan Data can be easily transmitted back to base, so that inspection data review and report writing can commence while technicians are continuing to work in the Tank.
First line in-field support is available for the TruFlux MFL Scanner with the optional TruFlux spares kits, available with or without a MagnaCheck 3D, meaning key components can easily be replaced/repaired by operators on on-site; eliminating lengthy downtimes and interruptions to scheduled maintenance plans.
---
Download our brochure:
Truflux_B&W Tank Floor Scanner_Iss 2_Nov 2023.pdf (969.4KB)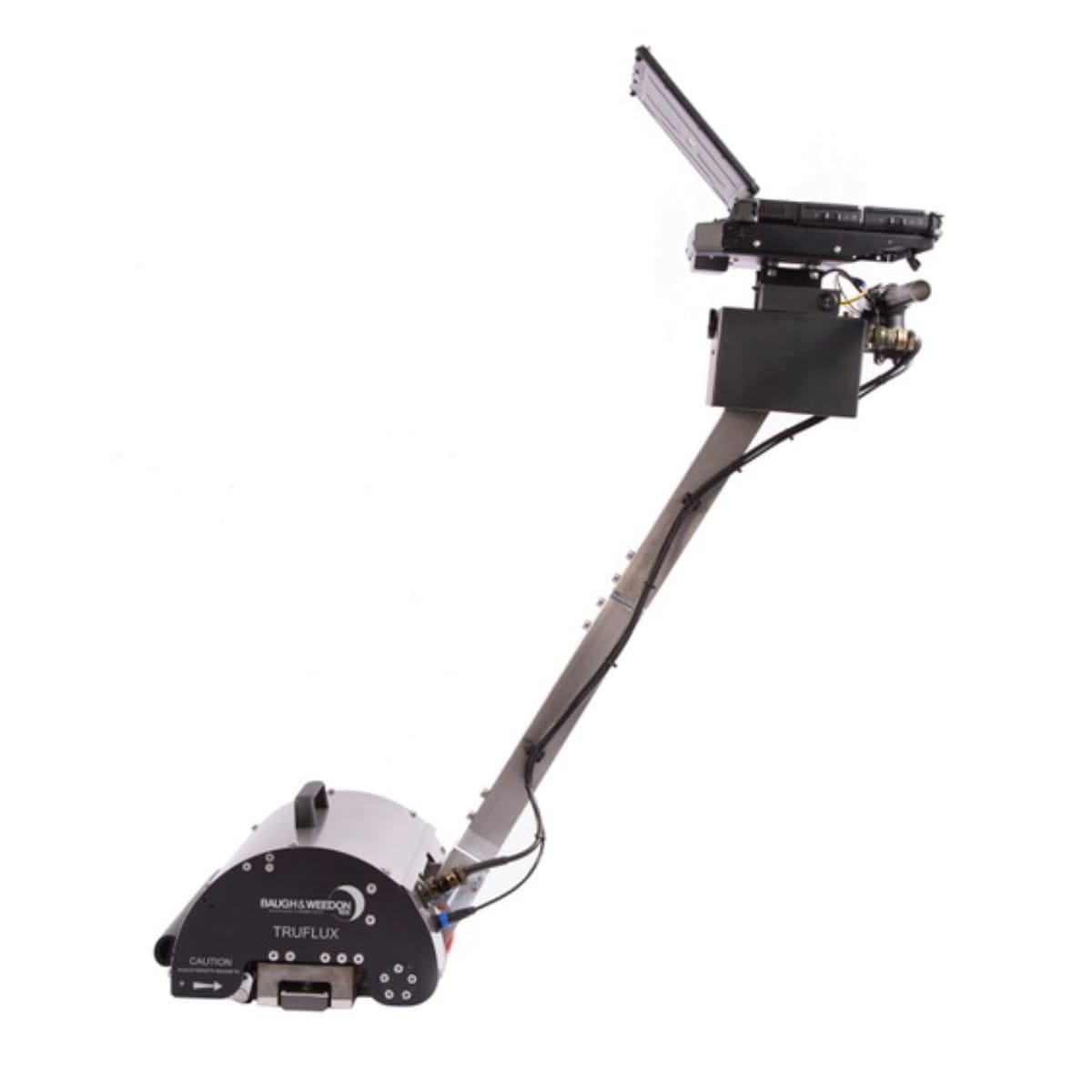 TruFlux Side View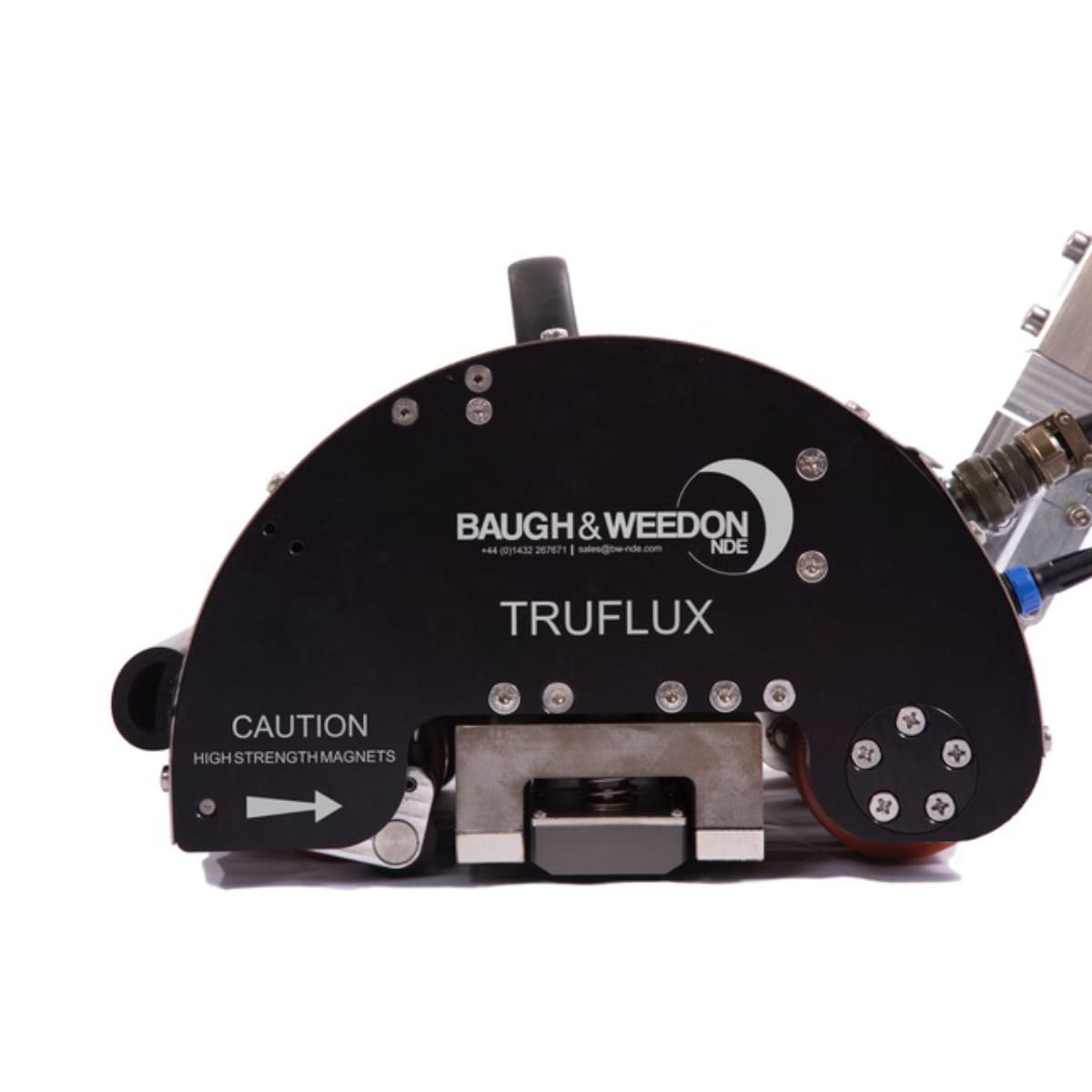 TruFlux Head Only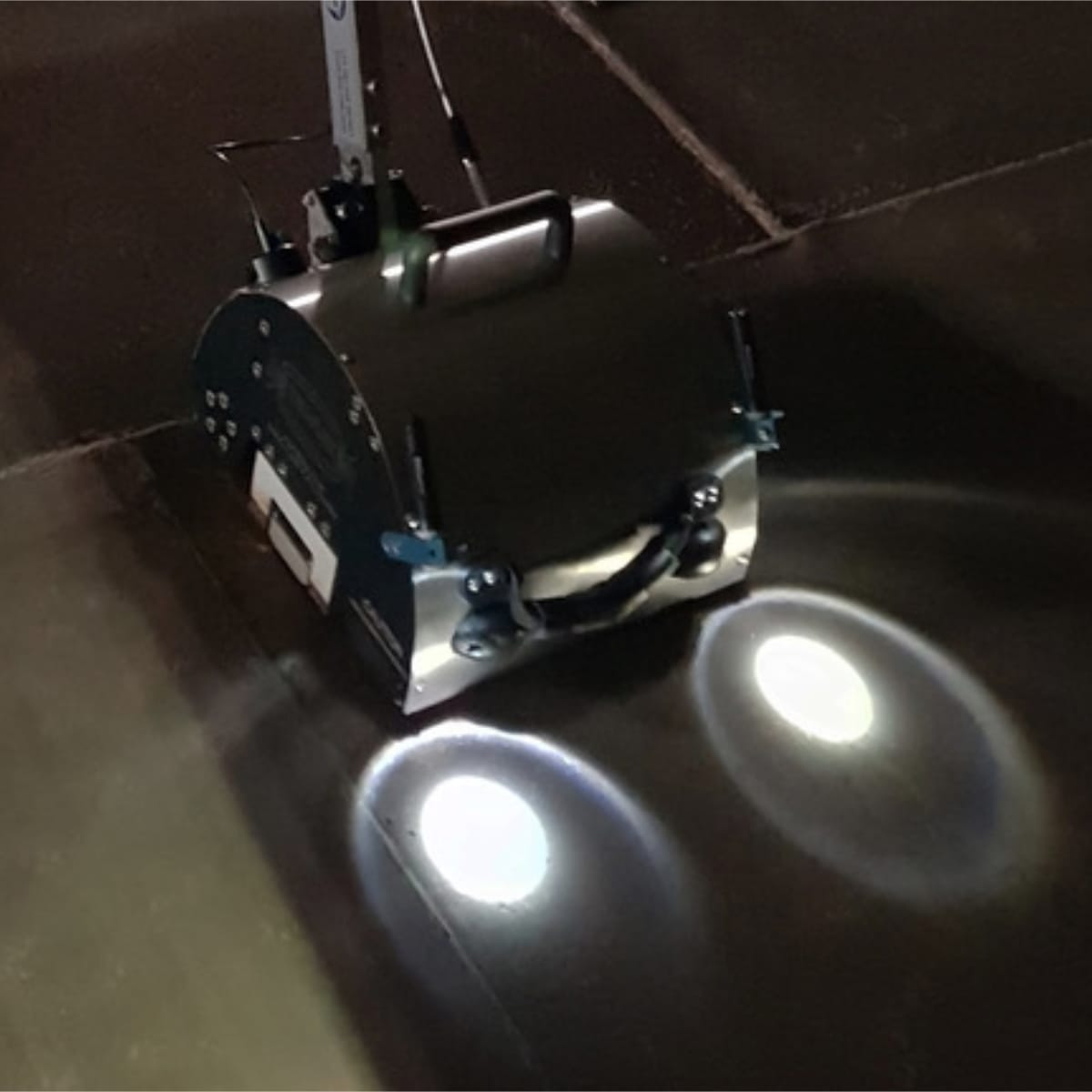 TruFlux Inside Tank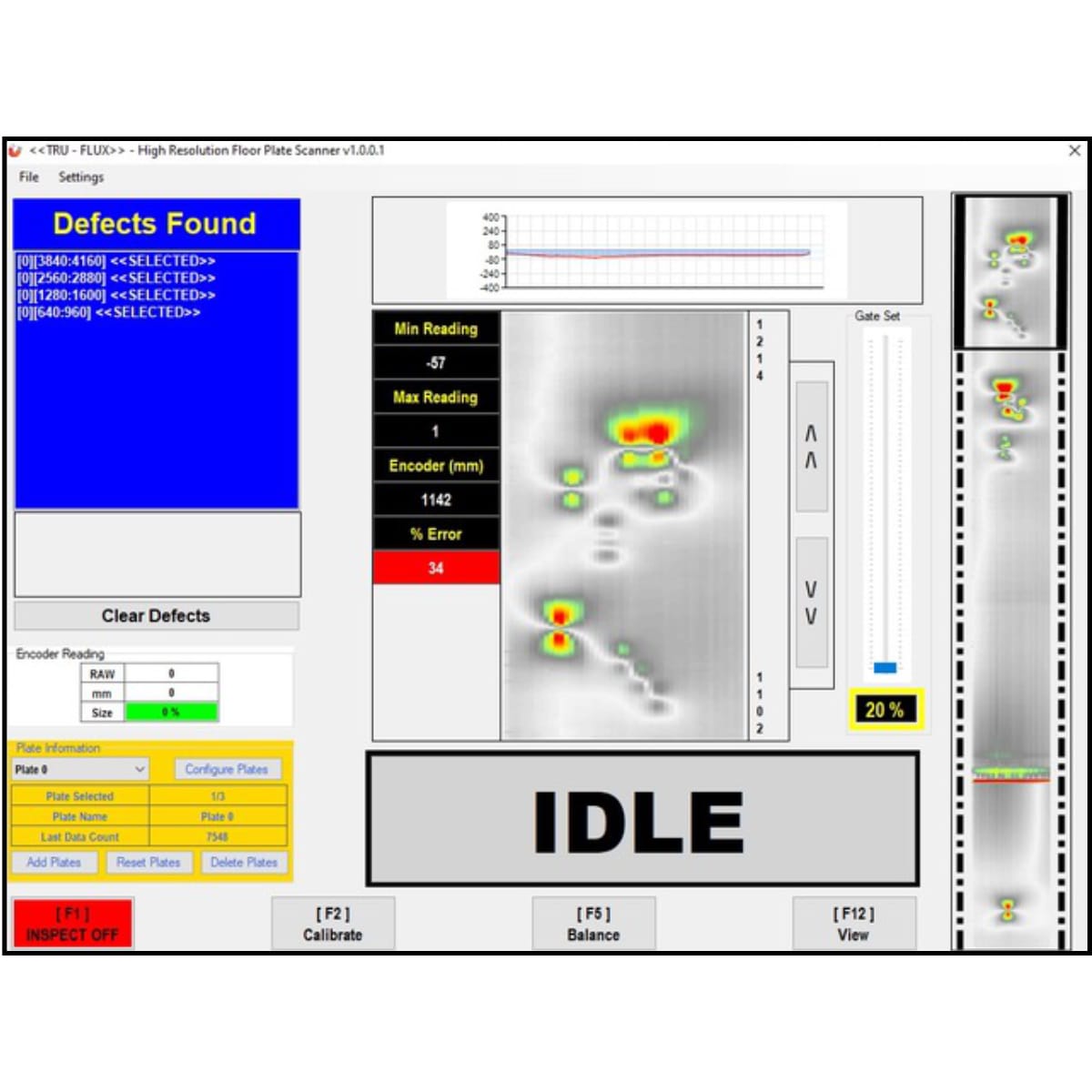 TruFlux Leakage Scan
---
Features
Superior Resolution (5.2mm x 1mm)
Report, Mapping, Alarm on Defect Analysis
Inspection results overlay feature, helps with predictive analysis
Rugged Laptop with Windows OS & separate battery supply
"Easy" lift-off for the operator
Field repairable with optional spares kit
Hot swappable batteries
Armoured cable connectivity
High resolution optical encoder, positional accuracy of ± 1mm over a 20m scan track
Fast track-to-track scanning images
EEMUA 159 and API 653 compliant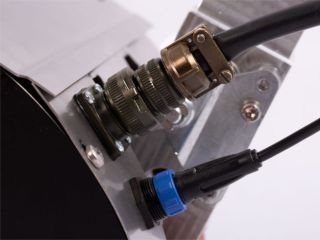 Videos
Standard Kit
TruFlux MFL Tank Floor Scanner
4 TruFlux batteries & charger
Transit Case
Rugged Laptop, 4 batteries and charger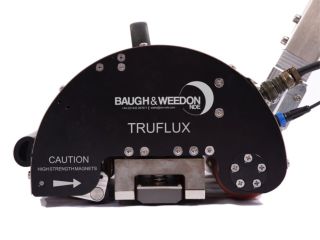 Options
Optional System Calibration Plates (6mm, 8mm, 10mm, 12mm)
Laser Guide
TruFlux Spares Kit (F-FKFSTRUFSP1) - without a MagnaCheck 3D
TruFlux Spares Kit (F-FKFSTRUFSP2) - with a MagnaCheck 3D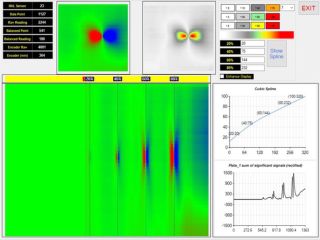 Specification
| | |
| --- | --- |
| Principle Of Operation | Magnetic Flux Leakage |
| Detection | 48 Hall Effect sensors |
| Scan Width | 300mm |
| Method of Propulsion | DC motor |
| Speed | 500mm/s |
| Thickness Range | 6-20mm |
| Test Through Coatings | Yes |
| Maximum Coating Thickness | 6mm |
| Maximum Sensitivity | 20% |
| Auto-Stop | No |
| Power Requirements | 2x Lithium-Ion |
| Transit Case | Meets IATA requirements for transporting magnetisable material |
| Operating Weight | 55kg |
| Real Time Analysis | Yes |
| Real Time Averaging | Yes |
| Real Time Digital Signal Processing | Yes |
| Freeze Screen Alarm | No |
| Linear Resolution | 0.5mm |
| Speed Compensation Algorithm | Yes |
| Sensors | 48 Channels x 0.5mm |
| Scan Length | Unlimited |
| Scan Plate End Zones | Yes |
| Adjustable Sensitivity Range | Yes |
| Fully dampened magnetic contact | Yes |
| Assisted Magnet Lift-Off | Yes. Minimal effort required to break magnet contact, resulting in considerably less operator fatigue |
| Scan Length Alignment (whilst in magnetic contact) | Yes. The scan track can be fully aligned when the magnet is in contact with the plate, alleviating the need to break contact if track alignment was not achieved |