Baugh and Weedon are proud to introduce the next generation of heat exchanger inspection capability from Iris Inspection Service.
The IRIS 9000 Plus has nearly 200 years of combined field inspection experience incorporated in its design, combined with a strong commitment to quality and a history of innovation.
Advantages of the IRIS 9000 Plus include:
Very high level of inspection speed
Detailed reporting capability, tube sheet maps, colour coding
Instant decisions possible based on fast report generation
Automatic or manual pit sizing
(Related Products: Audit 9000, Truflux)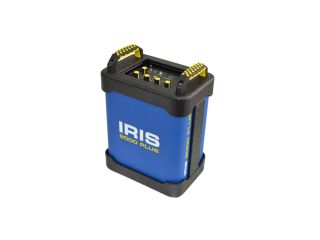 Overview
Iris Inspection Services® are the undisputed leader in IRIS technology, combining cutting-edge ultrasonic imaging technology and field proven reliability with unparalleled customer support. This next generation delivers high levels of performance with inspection speeds up to 5 times as fast with real-time C-Scanning and advanced inspection/reporting software.
New IRIS-Vision 5.0© software: the complete IRIS control system and reporting application. With this advanced proprietary software; build tube sheet maps and inspection plans, collect and analyse data, and build quick and concise reports – all on-site. This software is used for the inspection, data collection, and analysis. Once complete, an on-site final report is immediately generated. This report consists of a detailed description of the inspection findings, a summary of the test results, tube sheet maps; colour coded by percentage loss/remaining and damage type, side views of the exchanger indicating percentage loss/remaining, detailed information on each tube inspected, along with screen captures of the typical indications found.
---
Download our brochure:
iris9000.pdf (3.3MB)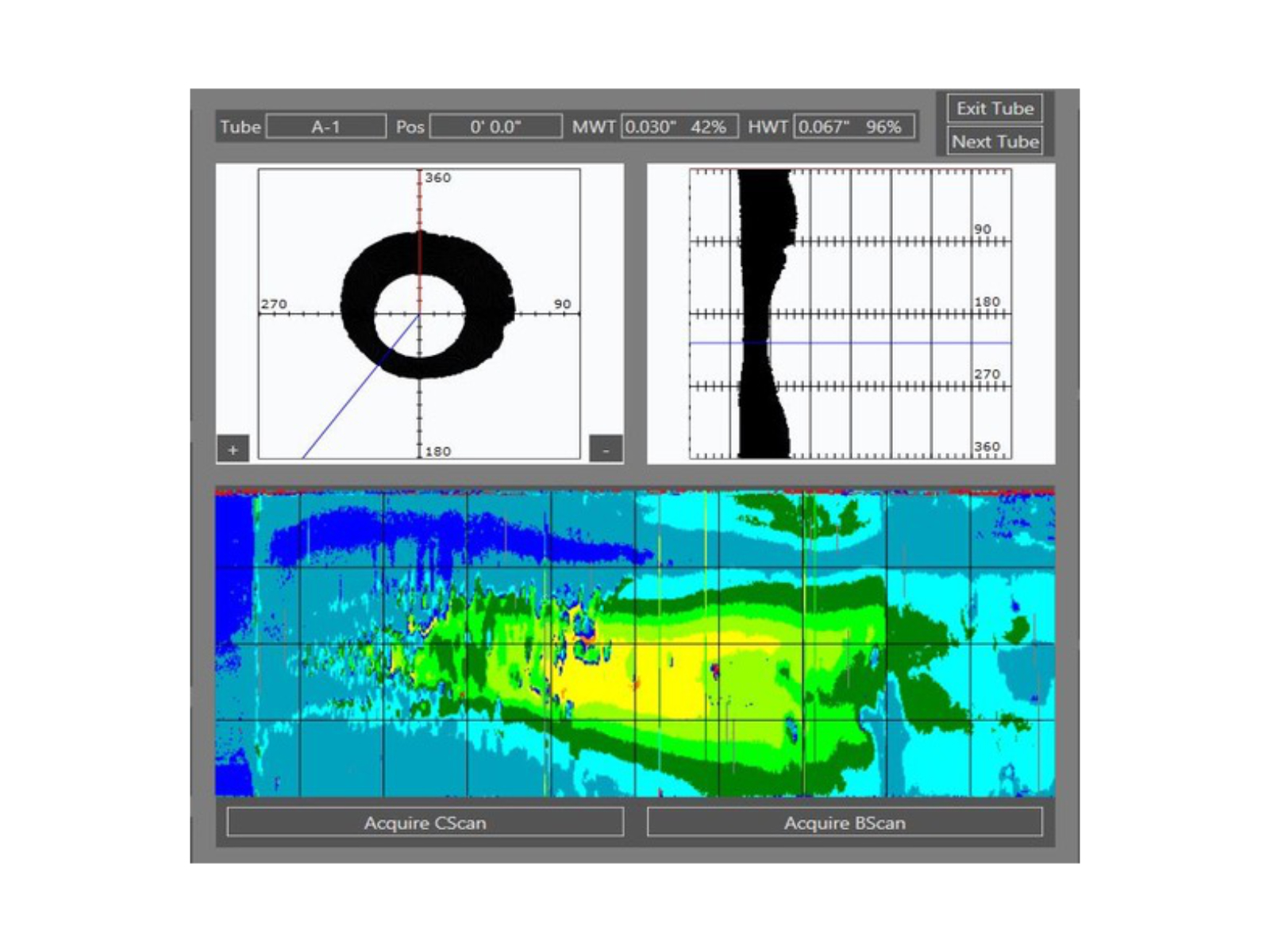 C-Scan Brass Corrosion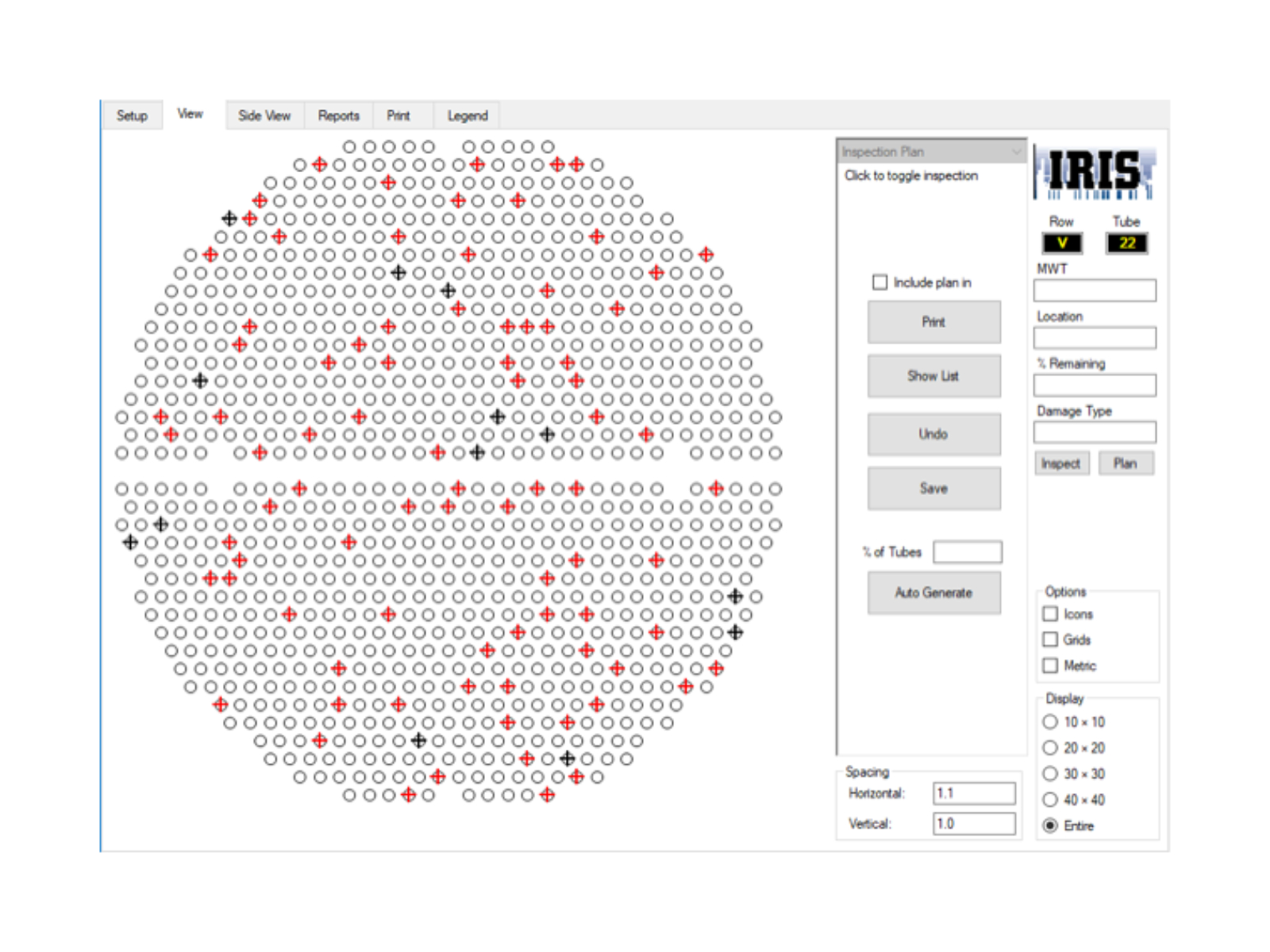 IRIS Real-Time Inspection
---
Features
Real-time B and C-Scanning
Designed for Heat Exchanger inspection, Fin-Fan air coolers, Boilers, Condensers & Chillers
Rugged, but for performance in hazardous areas
Use defined alarm limits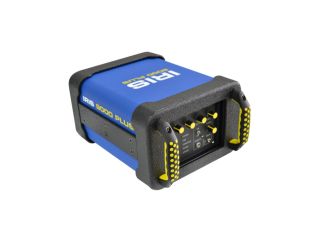 Specification
Channels
1 pulse echo
Pulse Voltage
200-300 V
Bandwidth
48 MHZ
Transducer Frequency
15 MHZ
Maximum Pulsing Rate
up to 13 kHz
A-Scan Length
scalable 255 points
Turbine Speed
up to 200 rps
Min Wall Thickness
229mm (0.009")
Max Wall Thickness
35mm (1.380")
Probe Recognition
AUTO
Hardware Monitoring
continual calibration, improved fault & probe monitoring
Encoder
quadrature
Remote
drive motor direction & speed control
Syncing
improved synching, auto adjust to turbine speed
Interface (Dual)
Hardware or software control
Chassis
rugged reinforced and braced aluminum
Dimensions
31 cm Lx 26 cm W x 17cm H
7kg
Temperature Range
-18°C to 46°C (0°E to 11505)
Input Voltage
100-240v • 50-60-
Software
Realtime Views
B- and C-scan realtime MW readings, image and control settings recorded, user defined alarm limits
Setup Display
B-Scan
Profilometry
wall thickness, minimum wall
Display
thickness, adjustable cursor and color coded
Cursors
cross-section cursors:
auto or manual pit sizing
Measurement
wall remaining, wall loss and percentages
OS
Windows 10
Inspection Plans
manual or auto-generated
Reporting
on-site report generation including tube sheet maps, exchanger side view, B- and C-scan screen captures and more