The PipeCheck 3 is the latest "water pipe verifier" in the PipeCheck Series that has been used successfully in the UK Gas and Water industries for many years.
Advantages of the PipeCheck 3 include:
Straightfoward to use
Saving cost by eliminating "wrong pipe" identification/excavation
Visual Alarms for operator assurance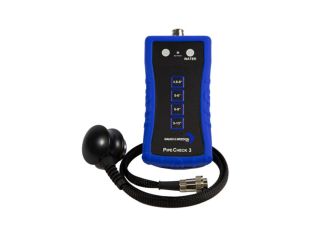 Overview
PipeCheck 3 is a simple to use hand-held instrument which positively identifies pipes filled with water and other fluids. PipeCheck 3 is designed to address the major identification problems, experienced by engineers engaged mostly in the water and gas service industries, when old cast or spun iron pipes are exposed.
When the instrument detects a full water pipe a green light and audible alarm are activated, the "water response". If the pipe does not contain water, for example gas or air, a red "warning" light is illuminated. Numerous red lights only, suggest a gas pipe, a "dead" pipe, a telecom trunking, a cable duct, or a heavily corroded and constricted water pipe.
---
Download our brochure:
PipeCheck 3 (381.3KB)
Features
Pipe Diameter Range: 90-325 mm (3.5 to 12.8 inches)
Wall Thickness Range: 5-25mm (0.20 - 1 inch)
Comprehensive 2 year guarantee (excluding probe)
Standard Kit
PipeCheck 3 instrument
Fitted Battery
Probe with integral cable
Wire Brush
Couplant

Operator Handbook

Transit Case

Comprehensive two year guarantee (excluding probe)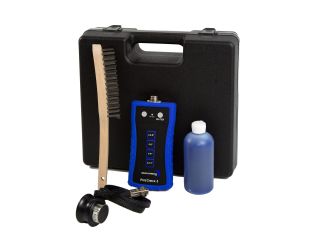 Specification
Pipe Diameter Range
90-325 mm (3.5 to 12.8 inches)
Wall Thickness Range
5-25 mm (0.20 to 1 inch)
Pipe Materials
Steel, Cast lron, Plastic
Pipe Linings
Plastic and Concrete (if both are well bonded)
Power Supply
PP39 volt battery (Alkaline type)
lndicators
Green LED and Audible Sounder for Water.

Red LED for Gas, "Dead" pipe, Cable duct, Telecom trunking, or "No" test.