The TruFlux Mini is a manual Industrial Detail Tank Floor Scanner and is the latest addition to the Baugh and Weedon tank floor scanning range developed to deliver to the operator a full package for a complete tank floor scan solution.
Advantages of the TruFlux Mini include:
Inspects though coatings, maximum thickness 6mm
Incredibly economic, improves R.O.I
Weight 8kg (17.5lbs), including handle

USB connectivity means the TruFlux effectively works as a simple "plug and play" unit

Inspection results overlay feature, helps with predictive analysis
Off-the-shelf battery technology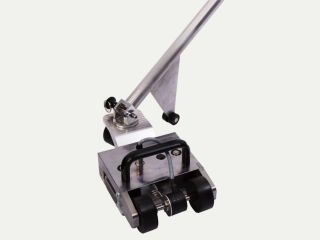 Overview
TruFlux Mini has the capability of scanning the edge of a floor up to the tank shell wall, into corners and under fixed pipework increasing inspection coverage. Data and defect mapping can be merged with the main sets of scan data acquired by the main inspection data gathered by the TruFlux.
---
Download our brochure:
Truflux Mini_Iss3.pdf (515.2KB)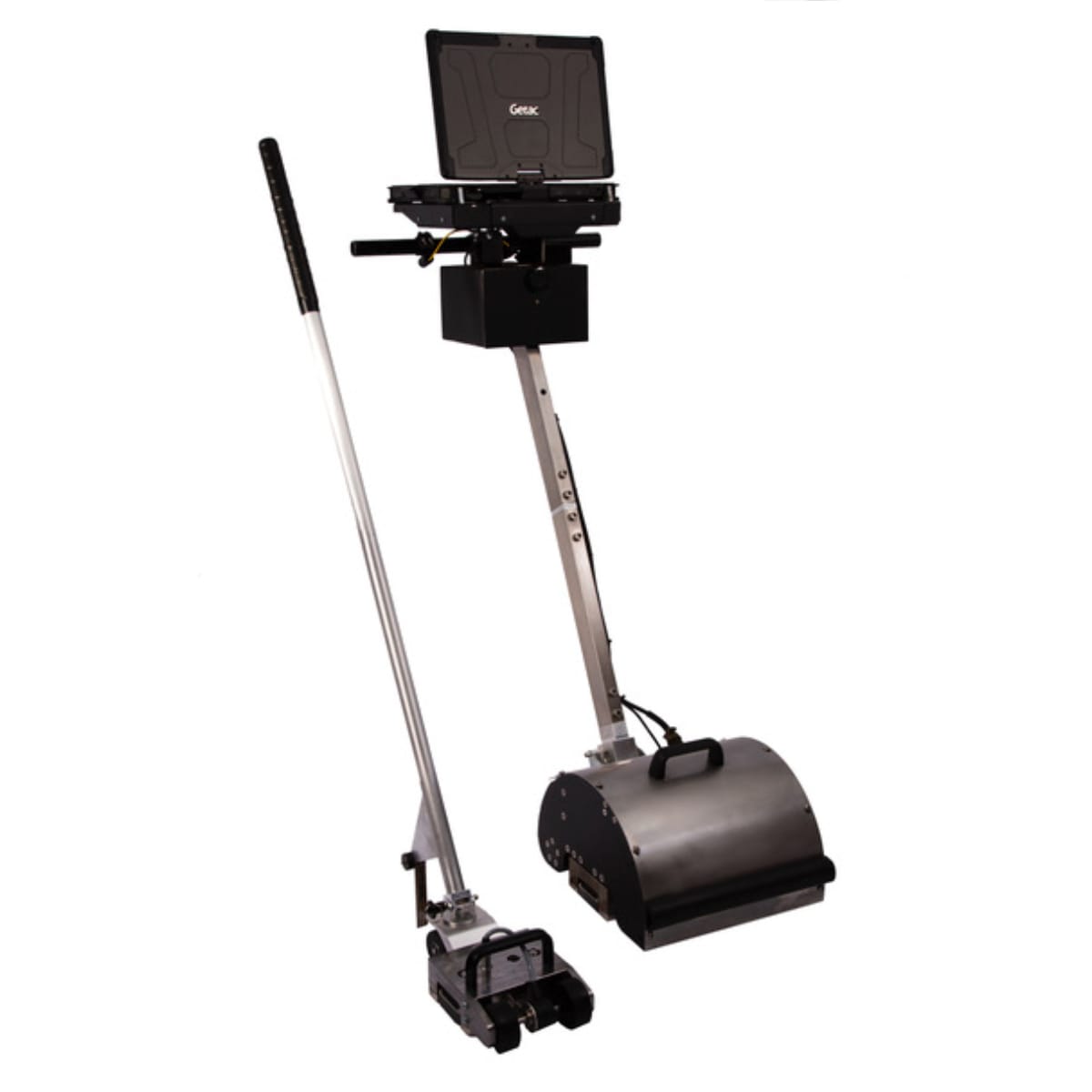 TruFlux Main & Mini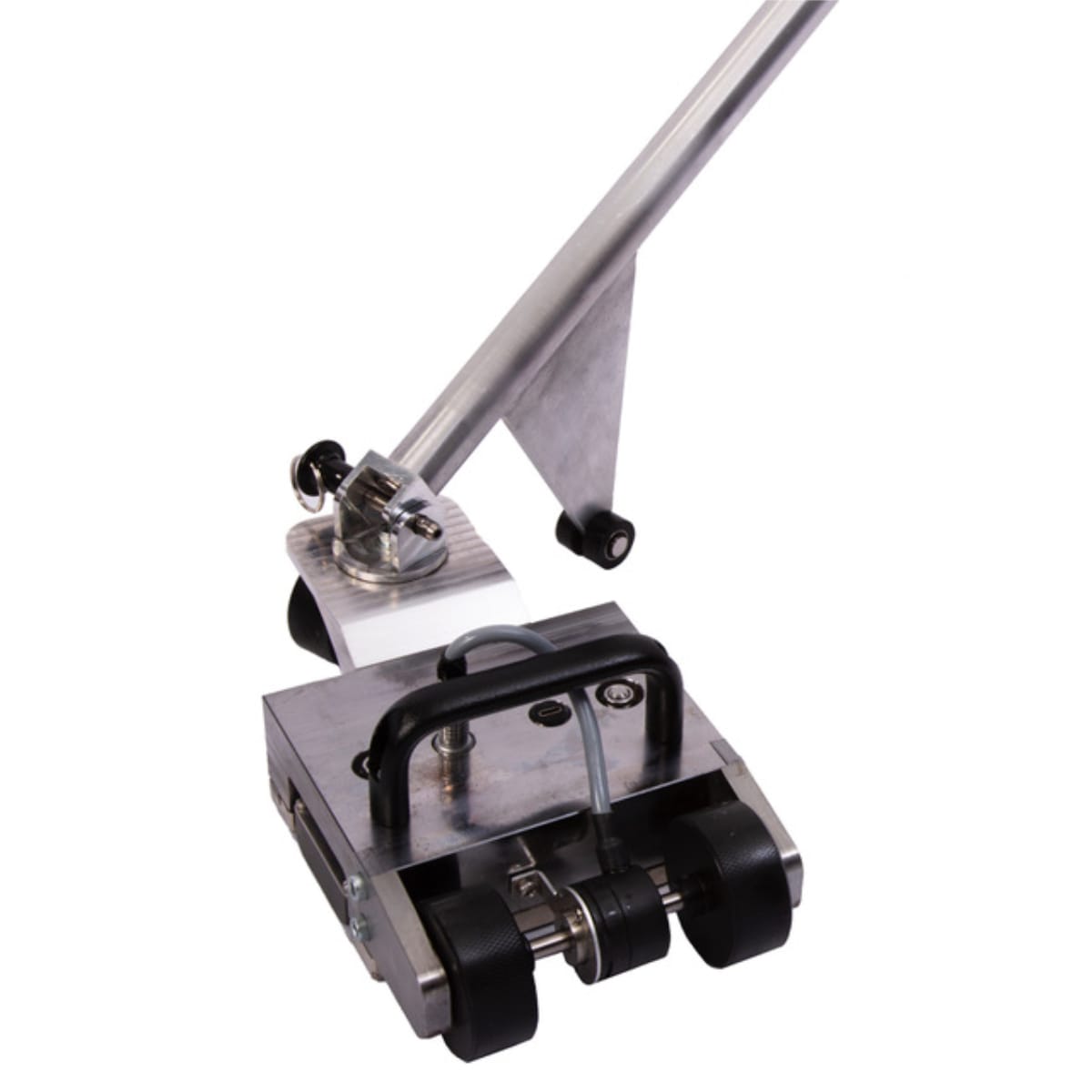 TruFlux Mini Foot
---
Features
Manual tank floor scanner, scan width 150mm (6")
Weight 8kg (17.5lbs), including handle/tablet
On-board encoder for defect location
Robust design features, as per TruFlux
Thickness Range 6-20mm (0.2 - 0.8")
Height clearance: 105mm (4.1")
Standard Kit
TruFlux Mini MFL Tank Floor Scanner
Transit Case
Options
Tablet

TruFlux Mini Spares Kit (F-FKFSTRUFSP3): without MagnaCheck 3D

TruFlux Mini Spares Kit (F-FKFSTRUFSP4): with MagnaCheck 3D
Specification
| | |
| --- | --- |
| Principle Of Operation | Magnetic Flux Leakage |
| Detection | 24 Hall Effect sensors |
| Scan Width | 150mm |
| Method of Propulsion | Manual |
| Speed | Manual (max 500mm/s) |
| Thickness Range | 6-20mm |
| Test Through Coatings | Yes |
| Maximum Coating Thickness | 6mm |
| Maximum Sensitivity | 20% |
| Auto-Stop | No |
| Power Requirements | 5V from USB of laptop/tablet |
| Transit Case | Meets IATA requirements for transporting magnetisable material |
| Operating Weight | < 3kg (not including tablet) |
| Real Time Analysis | Yes |
| Real Time Averaging | Yes |
| Real Time Digital Signal Processing | Yes |
| Freeze Screen Alarm | No |
| Linear Resolution | 0.5mm |
| Speed Compensation Algorithm | Yes |
| Sensors | 24 Channels x 0.5mm |
| Scan Length | Unlimited |
| Scan Plate End Zones | Yes |
| Adjustable Sensitivity Range | Yes |
| Fully dampened magnetic contact | No |
| Scan Length Alignment (whilst in magnetic contact) | Yes. The scan track can be fully aligned when the magnet is in contact with the plate, alleviating the need to break contact if track alignment was not achieved |