In NDT, image quality is key and therefore constant potential generators are a must. X-RIS have developed solutions in portable NDT have evolved beyond what has been in the market up until now.
Advantages of the Dereo UP include:
All X-RIS systems work across a brad scope of applications
Extremely portable and robust
High resolution X-Ray imaging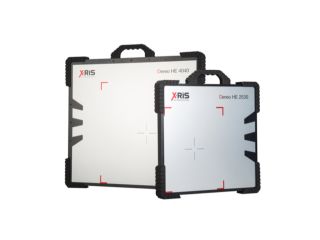 Overview
Portable high energy X-Ray DDA for heavy duty inspections.
Dereo HE (High Energy) is ideal for the X-Ray of high density materials and large thickness depths. Due to the sensitivity of electronic components to ionizing radiations Dereo HE has been designed in such a way that the electronic components sensitive to X-rays have been relocated next to the active area where they can be shielded.
Dereo HE is compatible with all sources (X-ray, gamma, betatrons, linear accelerators,…) and all energies thanks to its design and internal shielding.
Applications include:
Profile Radiography
Welds and Castings
Corrosion under Insulation (CUI)
Ammunitions
Concrete & Infrastructure
---
Download our brochure:
Dereo HE (683.8KB)
Features
Quick set ups and initutive software
Ultra-portable
Robust designs with bumpers, military standard connectors, carry cases
Standard Kit
Specification
Dereo HE 1723
Dereo HE 2532
Active Area
17 x 23cm
25 x 32cm
Pixel
75μm
124μm
Grey Level
16bit
16bit
Dimensions
208 x 256 x 30mm
322 x 355 x 19mm
Weight (battery included)
2.7kg
3.8kg
Wireless
Yes
Yes
Dereo HE 3643
Dereo HE 4040
Active Area
36 x 43cm
40 x 40cm
Pixel
140μm
200μm
Grey Level
16bit
14 or 16bit
Dimensions
400 x 470 x 19mm
605 x 586 x 25mm
Weight (battery included)
5.9kg
12.3kg
Wireless
Yes
Yes