The new BondCheck is a multi-mode bond testing flaw detector providing high speed bond inspection in pitch-catch or resonance modes, or mechanical impedance analysis (MIA), with excellent defect sensitivity.
Inspection applications include those where carbon and metal honeycombs need to be inspected for delaminations, disbonds and core damage as well as small defect detection and dry coupling. The BondCheck is ideal for a wide spectrum of advanced material NDT of required in the aerospace, automotive, wind energy and advanced manufacturing sectors.
Advantages of the BondCheck include:
Election of probe type available for different inspections
Flip function, for left or right handed users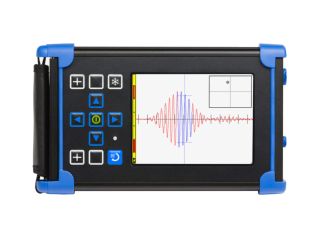 Overview
Housed in a lightweight instrument (1.2kg), with a common user interface between the three modes, the BondCheck delivers a simple and intuitive operator-led set up. The large daylight-readable display gives the BondCheck operator excellent data presentation and signal resolution. Users are able to configure colour schemes and use a secondary pane to create a split display with a choice of X-Y spot, frequency sweep, RF Waveform of spectrum displays; making the BondCheck an excellent great all round asset for inspection in the laboratory or out in the field.
The BondCheck Pitch-Catch Probe delivers high levels of performance and durability. Ergonomic design delivers robust and comfortable use. The position of the probe feet can be configured by the operator to suit the inspection task and the hard wearing probe tips are interchangeable; with rounded and flat tip profiles also available. The probe is broadband and is suitable for a wide range of applications.
BondCheck Resonance probes are available in a selection of frequencies (80, 100, 160, 200, 250 and 350kHz), and can also be supplied as a multi-probe kit. Both probe types have an Alarm LED and digital ID for ease of use, settings can be stored and "air calibration" is possible to establish the most sensitive inspection frequencies for your inspection.
The MIA technique is particularly useful for small defect detection, using a dry coupled probe with a small contact area. The technique offers excellent near surface defect sensitivity and is particularly suitable for top surface skin to core dis-bond detection for composite as well as metallic honeycomb structures.
---
Download our brochure:
BondCheck (1MB)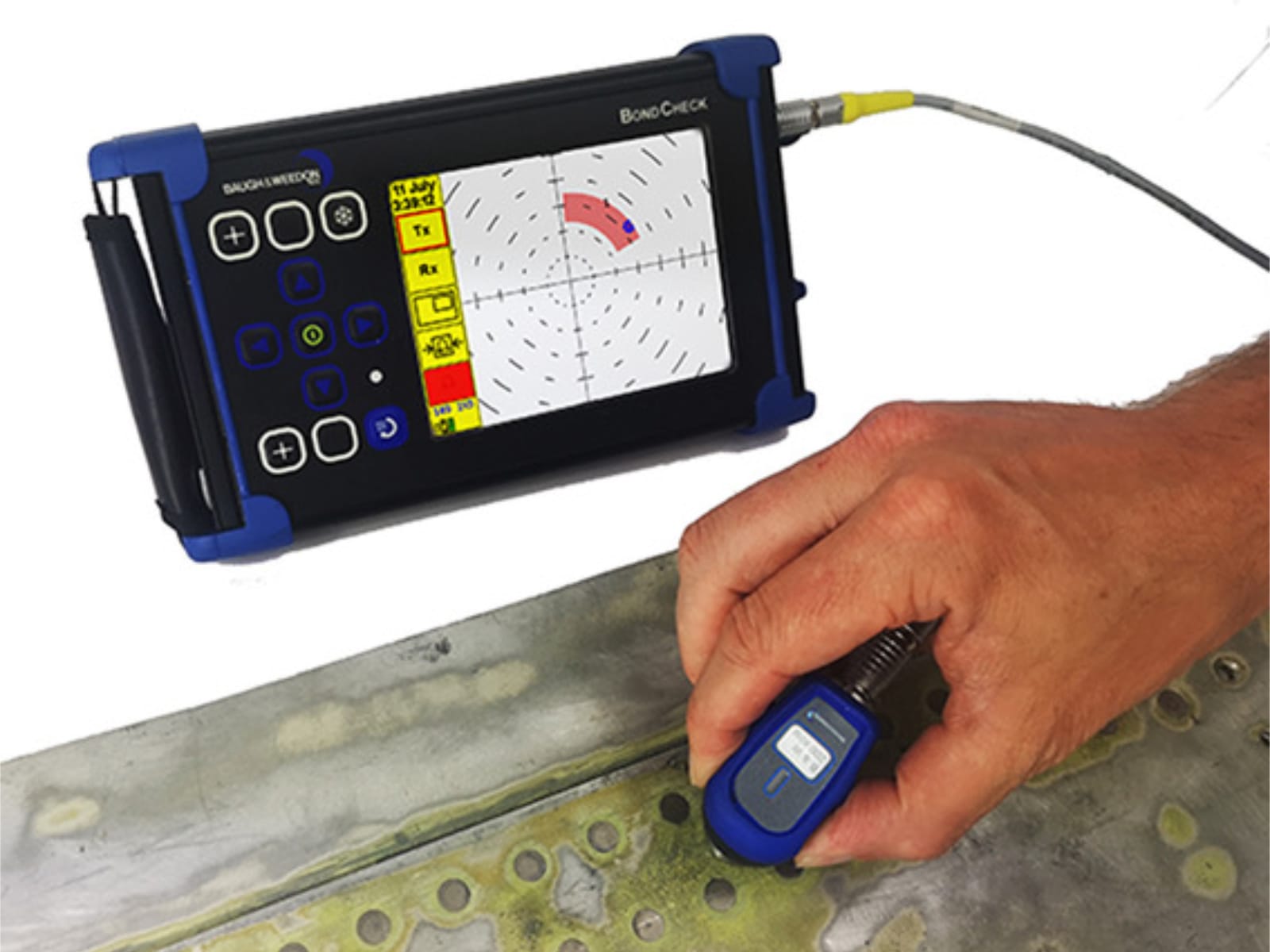 BondCheck with Resonance Probe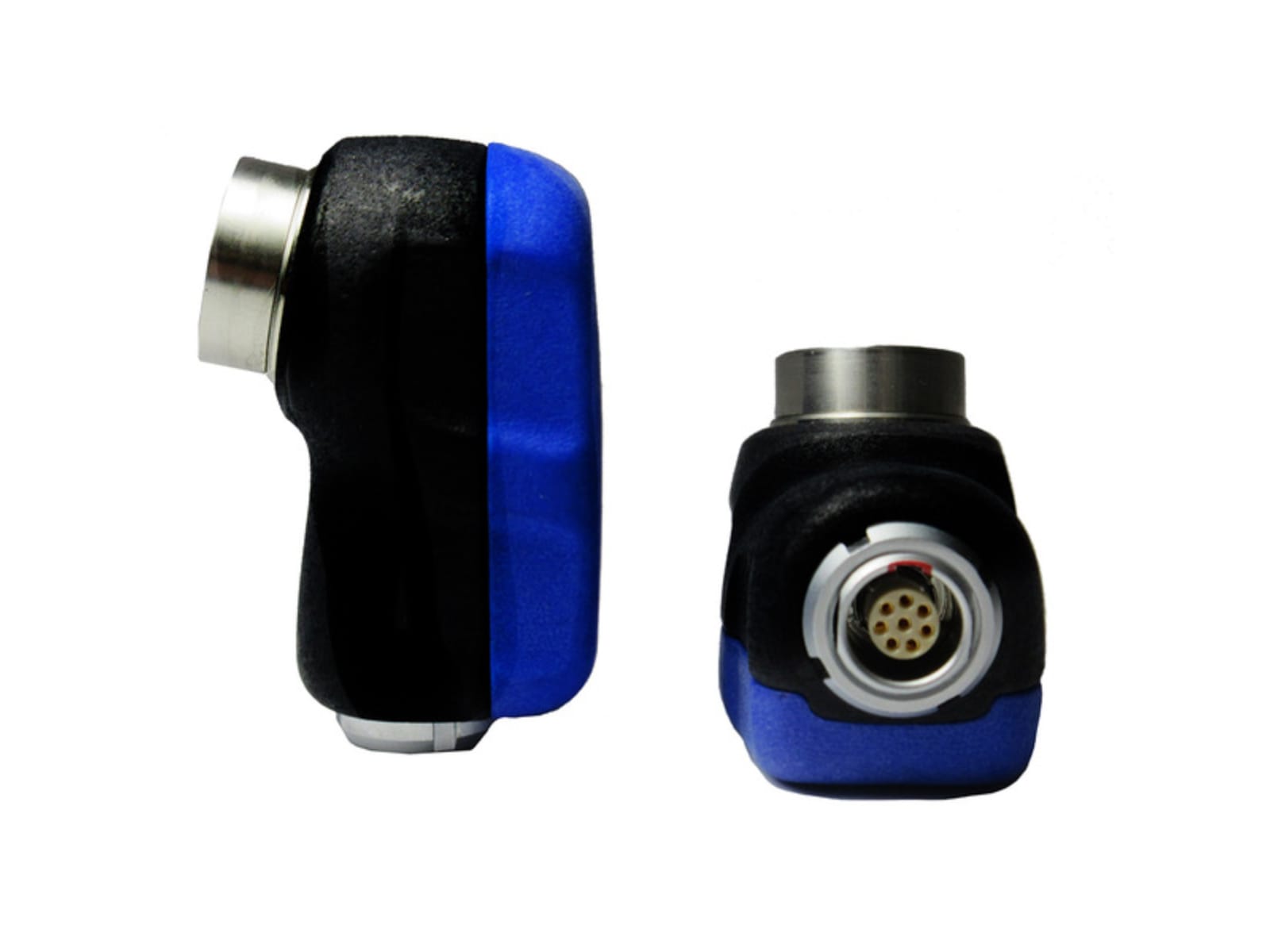 BondCheck Probes
---
Features
Multi-mode Bond Testing instrument
Unique calibration function for fast and easy set-up
Lightweight and portable
Dry coupled pitch-catch and MIA probes
Automatic Test Frequency Optimisation
Ideal for inspection on metallic bonded structures, composite and metallic honeycomb
2 year warranty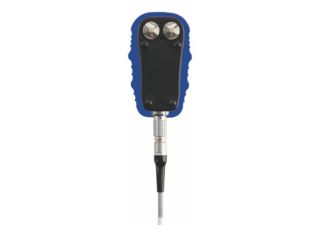 Videos
Options
Individual Resonance Probes or Resonance Probe Kit.
Pitch-Catch Probes.
MIA Probes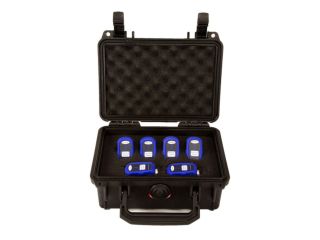 Specification
Display
Type
5.7" (145mm), 18 bit Colour, daylight readable.
Viewable Area
115.2mm (Horizontal) x 86.4mm (Vertical). Resolution 640 x 480 pixels
Colour Schemes
User configurable Dark, Bright and Black & White.
Configurable Screen
Full Screen, Single, Dual Pane with variable size and location and function e.g. XY, Timebase.
Display Modes
Pitch-Catch, Resonance & MIA: Spot and Sweep modes. RF Timebase for Pitch-Catch only.
Graticules
None, Grid (4 sizes 5, 10, 15 and 20% FSH), Polar (4 sizes 5, 10, 15 and 20% FSH)
Offset
Spot Position: Y -50 to +50, X -65 to +65%
Flip
Manual or automatic screen orientation change to enable left or right handed use.
Transmit
Operating Mode
Pitch-Catch / MIA Tone Burst
Output Frequency Range
Pitch Catch: 5kHz to 50kHz.
Resonance: 50kHz to 500kHz
MIA: 2kHz to 10kHz
Output Voltage
Pitch-Catch tone burst: 10 ranges: 1,3,6,8,10,12,18,24,30,36V pk-pk.
Pitch-Catch sweep: 3 ranges: 12, 24, 36V pk-pk.
Resonance: 3 ranges: 12, 24, 36V pk-pk.
MIA: 3 ranges: 12, 24, 36Vpk-pk (high voltage drive in probe).
Minimum Output drive load impedance
300 Ohms
Waveform Type: Pitch-Catch/MIA
Tone burst with rectangular or hanning window with chirp.
Transmit waveform points maximum: 8192.
Waveform duration: Maximum 3.2ms / 2.5ms.
Waveform output DAC clock rate: 2.5MHz fixed.
Frequency Sweep: Frequency range 5kHz to 50kHz / 2kHz to 10kHz.
Waveform Type: Resonance
Fixed or swept waveform
Frequency range 5kHz to 500 kHz
Receive
Pitch-Catch / MIA Tone Burst
Sample rate: 440kHz / 100kHz
Maximum PRF: 14Hz
Sample Bit depth: 12 bit
Gain range: 0 to 60dB
Receive bandwidth: 5kHz to 100kHz -6dB points
Input voltage saturation: ±400mV
Time base range: 100μs to 2ms/ 22ms
Time base delay: 0μs to 1ms
Cross Talk: >40dB isolation
Amplitude/phase extraction cursor: position resolution <5μs /10μs
Resonance & Pitch-Catch Sweep
Dynamic Range: >150dB
Bit depth: 24 bit
Gain Range: -30 to 60dB
Receive bandwidth: DC to 20MHz
Amplitude/phase extraction by QAM demodulation
Filtering
Fixed Hardware High-pass filter for Pitch-Catch to reduce surface scanning noise
Fixed Hardware Low-pass filters 100kHz for Pitch-Catch for optimum amplifier SNR
Configurable Software High-pass and Low-pass filters for all modes
Software
Acquisition Gate in RF Mode
Adjustable gate start, width and threshold.
Alarm Gate in Y-T Mode
Multiple box, circle and sector alarm zones.
Calibration Mode
Performs frequency sweep of bond and dis-bonded areas. Automatic inspection frequency determination with manual adjustment. Air calibration for resonance mode
Bond/Dis-bond Alarm
Status on screen and probe LED.
Removable Data Storage
Setup Storage
micro SD up to 32GB, holding over 10,000 settings
Stored Screen Shots
micro SD up to 32GB, holding over 10,000 screen shots
Record Replay
Real-time recording of trace data and Replay on instruments and desktop PC up to 164 seconds
Physical
Weight
1.2 kg, 2.7 lbs
Size (w x h x d)
237.5mm x 144mm x 52mm / 9.4" x 5.7" x 2.1"
Material/Housing
Aluminium alloy Mg Si 0.5 powder-coated
Operating/ Storage Temperature
Operating -20 to +60 °C
Storage for up to 12 months -20 to +60 °C. Nominal +20 °C
IP Rating
54
Warranty
2 year Manufacturer's Warranty
Covers all components of the BondCheck, excludes customer damage or misuse. (probes not included)