Magnetic Particle Inspection
LumaFlux
LumaFlux, a truly Innovative NDT product, delivering two meters in one package; a combined dual UV white light and tangential field strength meter.
Advantages of the LumaFlux meter include:
"Two instruments in one"
Cost savings over buying two separate meters
Lower calibration costs, versus the calibration of two meters
Low lifetime cost of ownership
Hot swappable sensors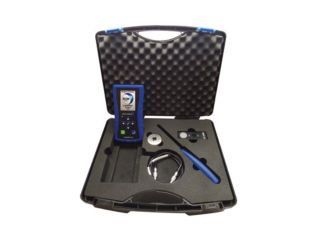 Overview
With an easy "Swap and Go" system to change Sensors, the LumaFlux rapidly switches between all the established functions of the LumaCheck Dual UV and White Light Meter, to the unique benefits of the MagnaCheck 3D Tangential Field Strength Meter. The LumaFlux automatically recognises the Sensor that is connected meaning that the unit operates in the selected mode until the sensors are swapped.
Not only does this Meter have a detachable Sensor Head, but also offers a detachable cable, allowing all aspects of the LumaCheck to be interchanged. If an operator has two Sensors with the LumaCheck, this interchangeability means that operators need not be without a functional light meter during calibration. The LumaCheck is housed in an extremely robust and high quality casing and as an exclusive Baugh & Weedon design it comes with the guarantee of high quality and renowned calibration services.
---
Download our brochure:
LumaFlux (370.1KB)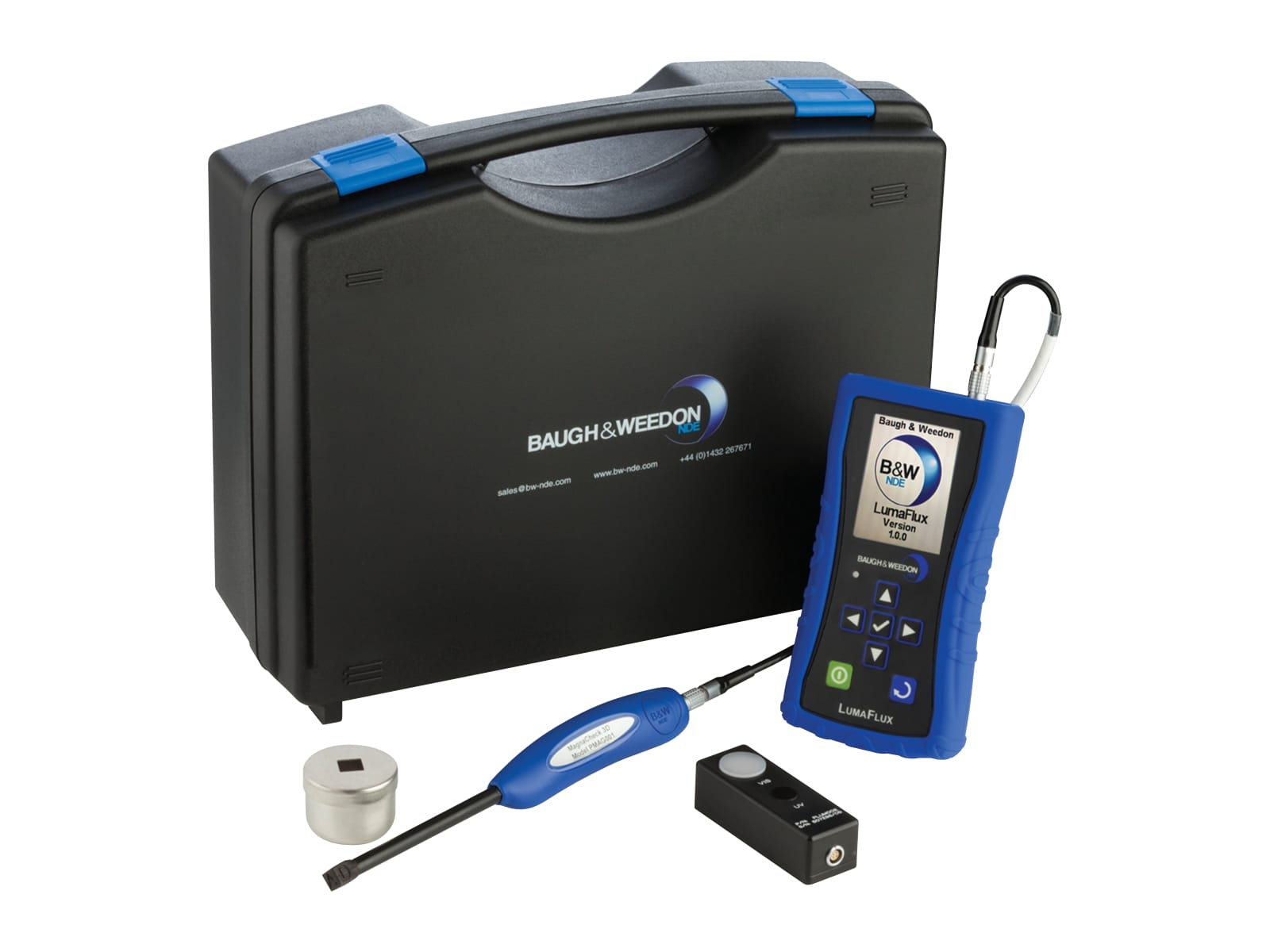 LumaFlux Kit
---
Features
Auto Sensor recognition
Interchangeable Sensors for different operational performance
High Measurement Accuracy
Rugged instrument housing
Ergonomic Design with Protective Rubber Boot
Unique 3D probe sensor
Battery Life in excess of 10hrs continual use
Comprehensive 12-month warranty
Standard Kit
LumaFlux Instrument
Dual UV & White Light Sensor
3D Tangential Field Strength Probe
Probe Lead
Metal Null Pot
Kit Carry Case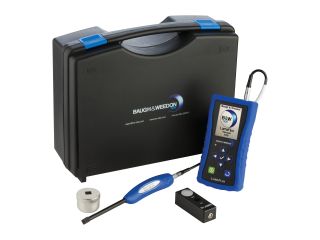 Specification
Dual UV & White Light Meter Function
Measurement Range: White Light
5 lux to 10,000 lux
Measurement Range: UV Light
0 to 10,000 uW/cm²
Resolution: White Light
0.1 lux below 10 lux
Resolution: UV Light
0.15 to 10μW/cm² (micro watts per square centimetre)
Units: White Light
Foot Candles (ft-c or fc or lm/ft) or Lux
Units: UV Light
μW/cm² (micro watts per square centimetre)
Display
70mm (2.8") 320 x 240 colour display. LCD with selectable backlight
Screen
5 readings per second
Conversion rate
100 ms
Resolution
Up to 0.1 Lux & 0.1 μW/cm² (configurable)
Dimensions
163mm (6.4") (h) x 80mm (3") (w) x 25mm (1.0") (d)
With rubber boot: 168mm (6.6") (h) x 85mm (3.3") (w) x 30mm (1.2") (d)
Weight
350g (0.77lbs) including batteries
Power
2 x 1.5V AA Alkaline batteries
PC Connectivity
USB or mains charging capabilities
IP Standard
IP54
Resolution
Adjustable in Menu system
Overall Accuracy
+/- 3% measured against primary standard
Temperature Co-efficient
less than +/- 0.01%/C (0 to 50°C)
Irradiance Range
UV-A 0-10000 μW/cm² Visible: 0 -10,000 lux
Spectral Range
UV-A 320-400nm, Visible 460-680nm
---
Tangential Field Strength Meter Function
Measurement Range
To 2000 Gauss
Units
Gauss, m Tesla, Ka/m
Measurement Modes
DC, AC, Peak, True RMS
Peak Hold Mode
Off, 1, 2, 5 and 10 seconds
MPI Bench Support
True RMS for Thyristor switched fields
Measurement Sample Rate
70 samples/second
Measurement Resolution
0.16 Gauss
Measurement Accuracy
1%
Probe Types
3D Auto recognition
Sensor Calibration
Stored digitally in the probe
Standards Compliance
ASTM E1444/1444M-16 and EN ISO 9934-3
Zeroing
Manual Zero with null pot (supplied)
Display Type
Colour LCD with selectable backlight
Display Size & Resolution
70mm (2.8") 32- x 240 pixels
Power
2 x 1.5V AA batteries
Typical battery life
In excess of 10 hours (continuous use)
Instrument Dimensions
163mm (6.4")(h) x 80mm (3") (w) x 25mm (1.0") (d)
With rubber boot: 168mm (6.6") (h) x 85mm (3.3") (w) x 30mm(1.2") (d)