Designed for applications where high portability ad freedom of movement is needed, the X750 is lightweight and rugged, providing high-resolution images and advanced imaging functions, enabling workers to deliver results in challenging environments.
Advantages of the X-750 include:
5" high-resolution LCD touch­screen
Rear Camera GPS function
Different Probe diameters available
Probes have a bending angle of 140°C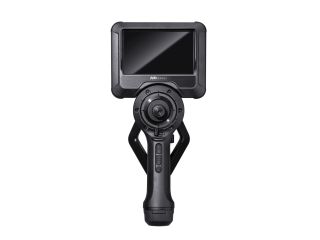 Overview
The X-750 only weighs 1.2kg and the exchangeable batteries provide three hours of operation. Complex applications or hard to access geometries are simplified using the interchangeable insertion probes. Our tungsten-braided insertion probes are not only IP67 certified but also withstand abrasion and heat of up to 100 degrees. The X750 offers super-resolution images and videos (2560*1440) and, the 5″ LCD touchscreen delivers crisp and clear images. Different field-of-view and depth-of-field values for our insertion probes allow you to adjust to your needs.
The X750 is also a multi-connection instrument ad several connection methods are available, including HDMI, USB Type-C, and Wi-Fi. The VideoScopeNow App lets you remote control the X750. Download photos and videos, and share them with customers or colleagues in the office. The X750 features a backside camera with a GPS function. You can use its GPS tags in our Insight software. Here you can map out your photos and add extra annotations to them. delivering great overviews of even the vastest of projects.
---
Download our brochure:
X-750 (1.6MB)
Features
X-750
Lightweight and ergonomic
One-handed operation
IP54 protection
HDMI / USB Type-C / Wi-Fi connectivity
Controllable via our VideoscopeNow app
File management, annotation, and comment functions
Compatible with Insight report assist software
Insertion Probes
Tungsten braided and are waterproof up to 1m depth for 30 minutes.
S-HD images and HD videos (2560*1440 pixels)
Various diameters available (3.9mm/ 6mm)
Roll-up tubes
Various lengths available (up to 7m)
IP67 certified / Scratch-resistant / Heat resistant (100 degree)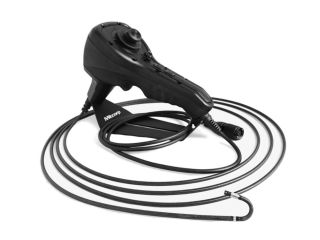 Standard Kit
Lithium Ion Battery and charger
Power adapters
Probe adapters
Mini HDMI cable
USB Type-C cable
Memory card
Cleaning Kit
Neck Strap
Probe sleeves (rigid)
Pelicase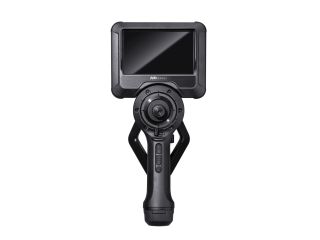 Options
360° Articulated Probes
Probe Diameters of 6mm or 3.9mm
Side view or dual-view mirrors.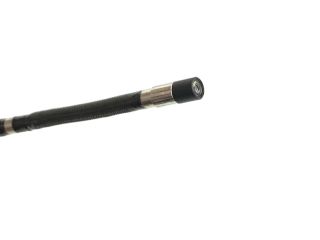 Specification
Base Unit
Dimension
L=327.5mm, W=152.8mm, H=201.3mm
Weight
1230g (w/2m tungsten tube)
Water Resistance
IP54 (whole set assembled)
Display
5" touchscreen (detachable), 800x480 Resolution
Function Buttons
Power On/Off, Reset button (pin button)
I/O Port
Micro-SD memory card slot, USB Type-C (power in/data out), Mini-HDMI (Av output)
Tip Temperature on screen
60℃ / 80℃ / 100℃ - 3 Level Warning
Wi-Fi
802.11 b/g/n
App
VideoscopeNow
LED Indicators
Green - working / fully recharged, Red - low power / recharging
Microphone
Built-in (on/off switch in settings menu)
Backside Light
LED
Backside Camera
2560x1440 .jpg
GNSS
GPS, GLONASS Dual Mode
Joystick
Articulation
Full Ways (mechanical wiring)
Function Buttons
4 Buttons: Brightness + / -, Snapshot / Record , Custom Button (Self-definition)
Articulation Control
Joystick, Lock - Stop & Go
Battery (one piece)
4900mAh replaceable Li-ion Battery
Working Time
3 Hours of Operation (with 2m/3m insertion probes, might decrease with longer insertion probes)
Working Temperature
Battery powered: -10℃~45℃,
Battery charging: 0℃~40℃
Battery / Charger
Dimension
L=117.5mm, W=76.7mm, H=69.7mm
Weight
Full Set (Batteries w/ Charger Set): 393g,
Battery: 113g,
Charger Set: 165g
Charging Time
6 Hours for 2 Batteries, 3 Hours for 1 Battery
LED Indicator
Red: Charging, Green: Fully Charged