Magnetic Particle Inspection
PBU 350
Offering outstanding MPI performance teamed with the robust design, this portable bench, weighing in at 80kg (176lbs), means that with two personnel it can be moved easily around a site and used wherever there is a power source, your inspection location becomes highly adaptable.
Advantages of the PBU 350 MPI Portable Bench include:
"Bi-Directional Coils" The PBU-350 is offered with a choice of 100mm or 150mm MPI Coil that is clamped between the head and tailstocks. The advantage with the Baugh & Weedon PBU-350 Coils is that they are bi-directional meaning that one coil can be turned at 90° and clamped in either direction, meaning that defects can easily be investigated in either plane.
Optional Flux Flow. The standard PBU Unit is built with Current Flow. However, Flux Flow can be added integrally to the PBU-350 unit allowing the user to find transverse defects without needing to use a coil.
Overview
The PBU 350 Portable Magnetic Particle Inspection (MPI) Bench Unit offers great MPI performance teamed with the outstanding quality and is seen to be "A perfect portable MPI solution". The PBU is ideal for small component testing so larger MPI Benches can remain dedicated to larger component inspection, shippable to off-site locations for "in-situ" instant inspection requirements.
The PBU uses a gas spring to provide the clamping pressure on the headstock that ensures optimum electrical contact with the component under test. We have also developed the coil to offer bi-directional clamping allowing the coil to be manually rotated at 90° for maximum inspection flexibility. Maximum component length is 35cms (13.8").
---
Download our brochure:
PBU 350 MPI Portable Bench (662.7KB)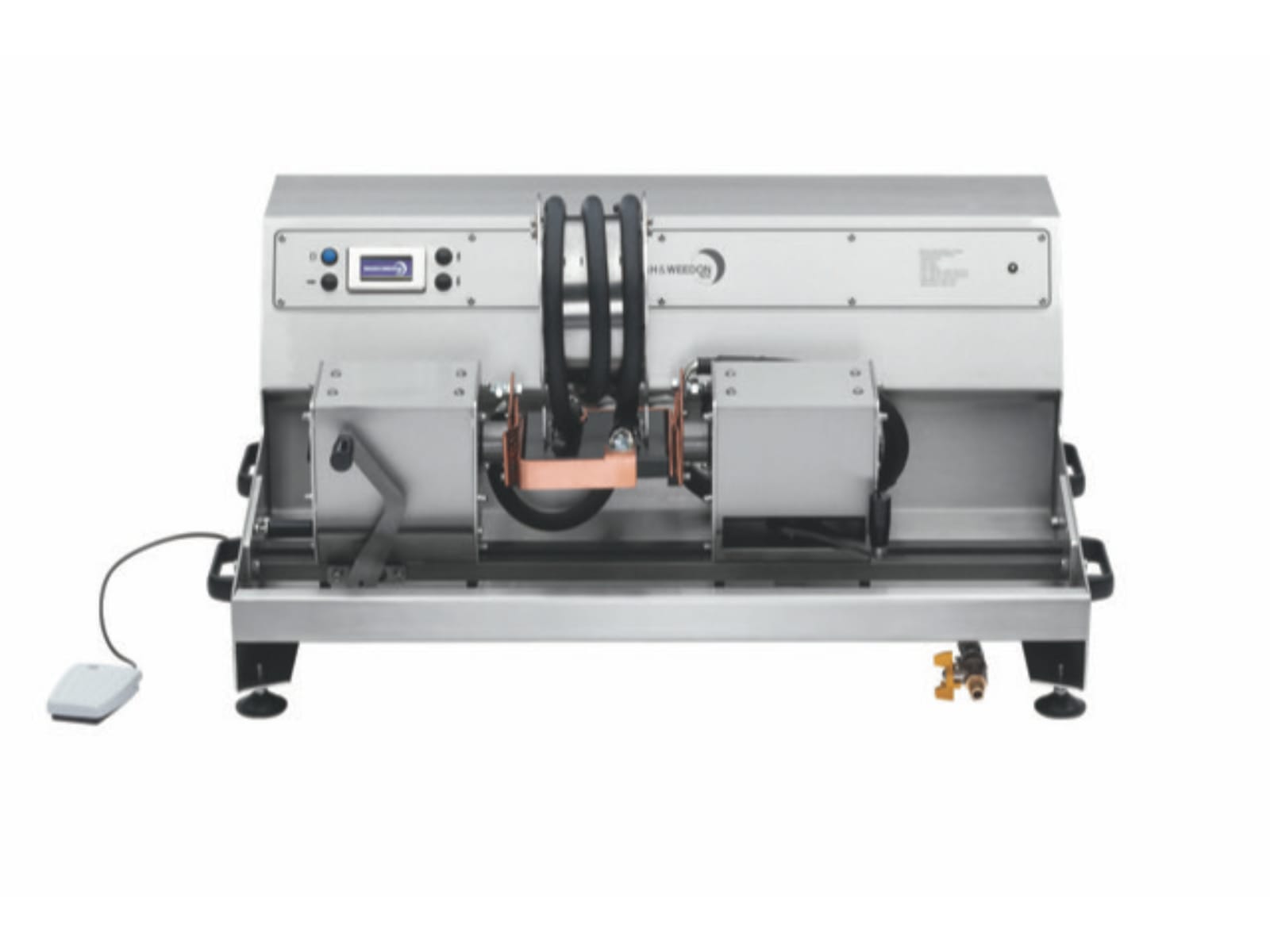 PBU 350 front view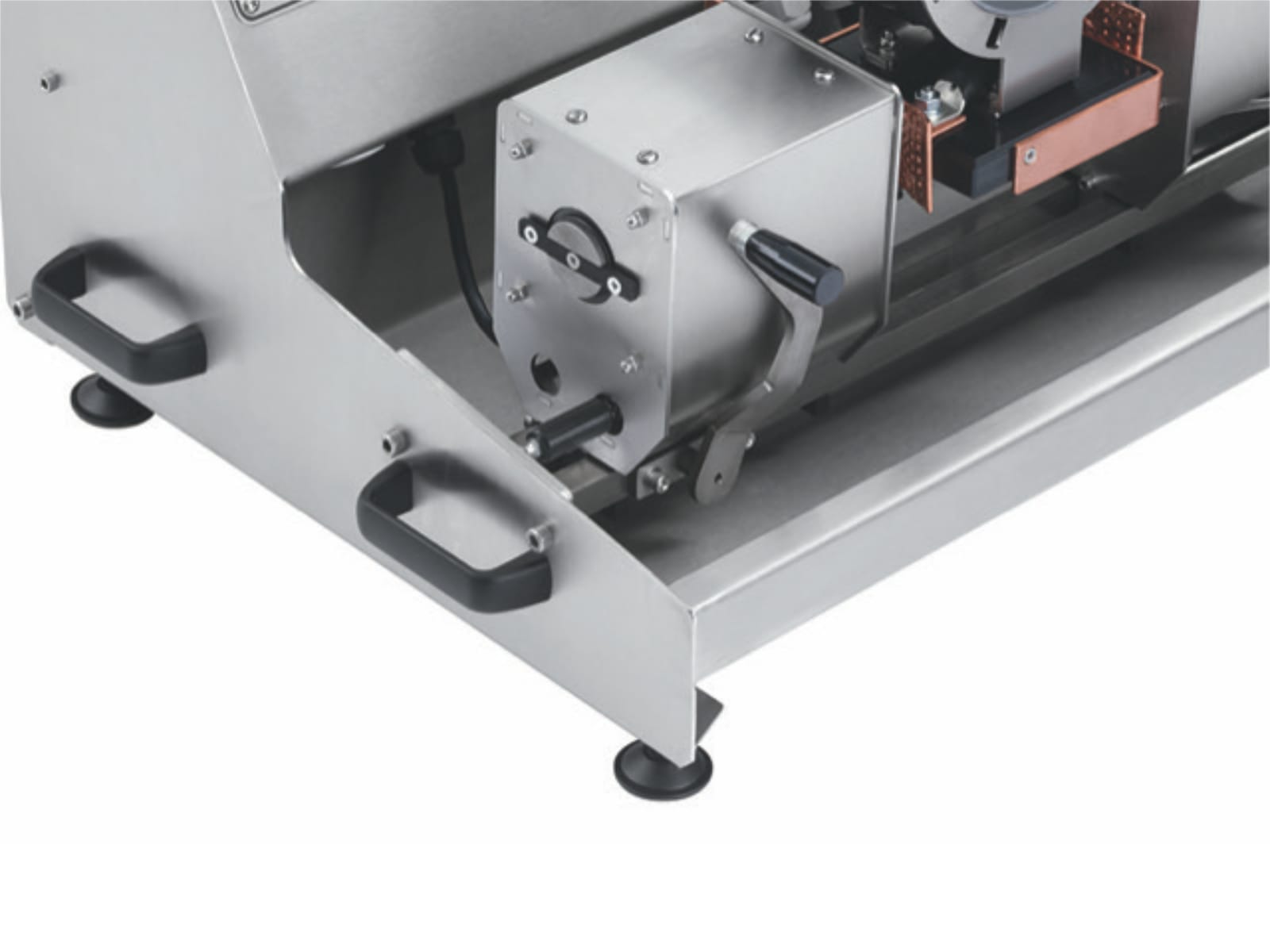 Gas Spring Pressure On Headstock
---
Features
Only requires a 13 Amp supply.
Working Ranges: Current Flow 1000 AMPS AC RMS (1800Amps Peak equivalent). HWDC 700 AMPS Twice Mean (=MagAmps), 350Amps Mean equivalent.
Optional Current Pre-Selection system.
Stainless Steel construction.
Compact with integral Power Pack.
AC / HWDC magnetising.
Shot times of 1, 2 and 3 seconds as standard (dual shot times also available)
Demagnetisation cycle.
Gas spring pressure on Headstock & Manual Locking Tailstock.
Current Flow - copper braid contact pads & V-block supports.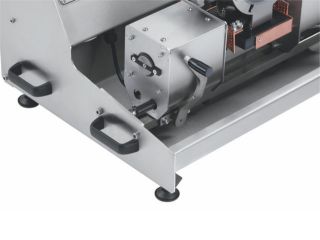 Standard Kit
Standard PBU Bench
Contact Pads
Manual
Certification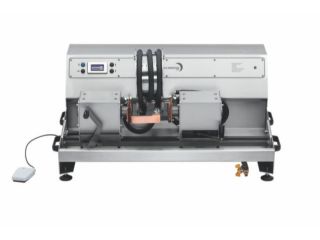 Options
Flux Flow
Bi-directional Coils
Footswitch
Inking System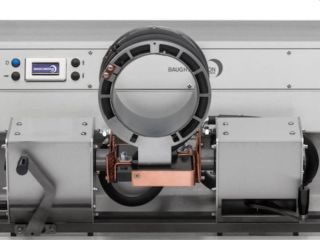 Specification
| | |
| --- | --- |
| Current Waveforms | AC, HWDC as standard with Single Phase FWDC as optional |
| Dimensions | 800mm x 550mm x 380mm (31.5" x 21.5" x 15") |
| Output | Current Flow 1000 AMPS AC RMS (1800Amps Peak equivalent) HWDC 700 AMPS Twice Mean (=MagAmps), 350 Amps Mean equivalent |
| Power Input | 220V-10 Amps. (Dual voltage version available, 110V-30 amps/220V-10Amps) |
| Max Component Length | Up to 350 mm (13.8") |
| Metering | Digital |
| Contact Pads | 50mm x 60mm Braided Copper Pads |
| Clamping | Headstock with gas spring pressure clamping and manually locked tailstock |
| Coil Option | 100 or 150mm Diameter 3 turn Copper Coil |
| Flux Flow Option | Coils in Head & Tailstock powered by FWDC - max output 20000 Amp Turns |
| Demag Cycle | Current Flow - Decaying AC demag cycle. Flux Flow - Low frequency, reversing polarity, decaying current. |
| Weight | Approx 80kg (176lbs) |
| Calibrated | Traceable Calibration with Certificate |
| Shot Time | Selection 1, 2 & 2x1 second (other options available) |