Baugh & Weedon proud to take part in Agility NDE Technology Day
Agility NDE to host a NDT Technology Showcase day, in Aberdeen, on November 16th, 2023.
Baugh & Weedon are proud to be part of the Agility NDE NDT Technology Day, which will be in Aberdeen on Thursday 16th November between 09:30-16:00hrs. Agility NDE are hosting the day to showcase a range of new and updated NDT Technologies for use within the oil & gas, renewables, aerospace, transport and civil engineering sectors.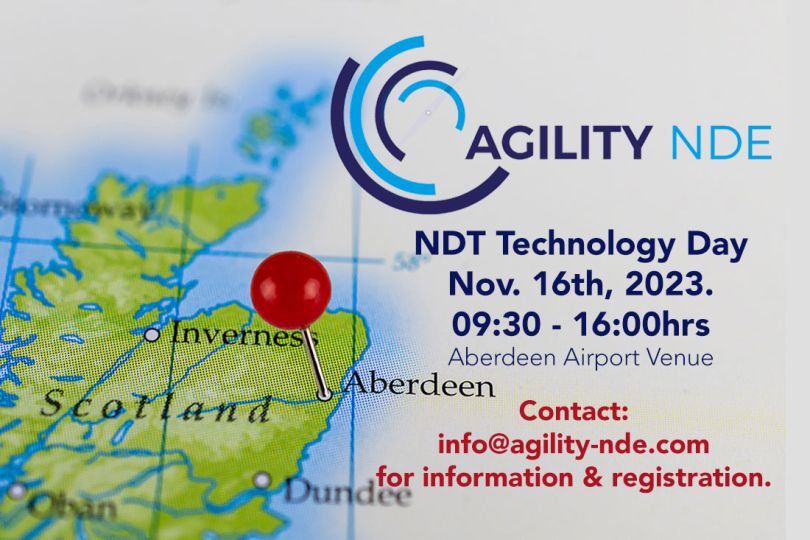 Agility NDE will exhibit a wide range NDT technologies for registered visitors, with the support of teams from key manufacturers, enabling hands-on demos, application exploration and new instrumentation previews of their extensive range of conventional and advanced inspection solutions. Baugh and Weedon will be taking part, alongside others, primarily with the more portable solutions including the TruFlux tank floor scanners, the portable DigiMag2 from the comprehensive MPI Bench range, portable UV lights, some with explosive ratings, conventional AC handheld yokes and MPI chemicals. Baugh and Weedon also deliver full scale MPI Bench systems, Penetrant Inspection lines, accompanied by all the neccessary accesories and chemicals, all designed and built from their headquarters in the UK. B&W are the UK distributor for Mitcorp USA's range of HD videoscopes, ideal for "first pass" visual inspection in hazardous zones and "difficult-to-access" areas, so drop in to find out more about the Mitcorp range options that would suit your inspection needs.
For further information and registration for the Agility NDE, Aberdeen based event please email info@agility-nde.com.